Joy Story Foundation helps Akshay( name changed to hide the identity),a brilliant student who lost his father and was forced to leave the school.
Name

:Akshay

Location

:New Delhi

Help Amount

:Rs.32,400,(16,200 in two Installments)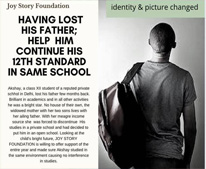 Education Challenge
The untimely death of his father and the poor financial status of the family forced his mother to withdraw him from regular school and put him in an open school where he could at least complete his education.
How Joy Story extended help
Joy Story identified the case and offered to sponsor the fee of Rs.32,400 for the whole year in two installments.
Impact
Touched by the painful story of Akshay, Joy Story Foundation sponsored the complete One year education expense to make sure that Akshay finishes his school education without any hindrance and makes a career of his own choice. His circumstances were forcing him to withdraw from school and finish his class XII thru open school learning but a small gesture of Joy Story Foundation made sure there is no change in the way Akshay would study and was rendered all the support he needed.