Joy Story ensured Four intellectually challenged kids go to school.
Name

:BITTO, VISHAL, ABHISHEK, JITEN

Location

:Students of SAMVEDNA INSTITUTE, New Delhi

Help Amount

:Rs.5000 & Rs.5200 each respectively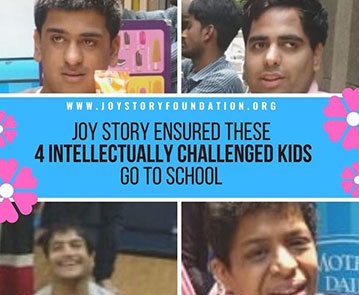 Education Challenge
Sons of a gardener, a driver, a house servant and a peon, all the four are intellectually challenged kids. Loss of work and income of their parents made it difficult for them to pay their examination fees.This implied that they will not be able to give their examination and would further lag behind in comparison to the other kids of their age group.
How Joy Story extended help
Joy Story identified the case and offered to sponsor the fee of these four kids for this academic session.
Impact
Touched by the painful story of these Intellectually challenged kids who are fighting their battles in life because of their disabilities, Joy Story Foundation made sure that there is no break in their education and they duly appear in their examinations to reach the next level.