JOY STORY FOUNDATION SUPPORTS A WOMEN'S TREATMENT FOR A RARE NEUROLOGICAL DISORDER
Name

:USHA

Location

:NEW DELHI

Help Amount

:Medical Support-NEUROLOGICAL DISORDER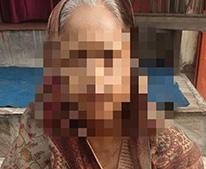 Livelihood Challenge
Usha, a 55yrs old widow lives with her old ailing mother in a 25sq.mt. house in a resettlement colony. The only source of income is a Rs. 2500/- pension that she receives on behalf of her husband. Usha suffers from a rare neurological disorder and can not afford her treatment and medicines. Her two daughters are married off in far away villages.
How Joy Story extended help
With bad financial state and no one to care, survival was an issue, till Joy Story Foundation offered support.
Impact
The medical support is a big help for Usha, who had no one to seek help. She now is in a comfortable situation, where the right treatment will make sure she needs a comfortable life.