JOY STORY FOUNDATION SUPPORTS ALIYA, DAUGHTER OF A STREET VEGETABLE SELLER FOR THE TREATMENT OF HER RARE SKIN DISEASE.
Name

:ALIYA, 17 YRS

Location

:NEW DELHI

Help Amount

:SUPPORT FOR A SKIN TREATMENT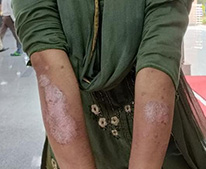 Livelihood Challenge
Aliya, a 17 yr old girl sufferrd from a rare skin disease which needed a regular & expensive treatment and could turn chronic & incurable if not attended in time.
How Joy Story extended help
For Aliya's father, a daughter of a street vegetable seller this seemed impossible as he has to run a family of seven with his insufficient earnings and such medical treatments are beyond reach.
The girls condition deteriorated until Joy Story Foundation offered support for her complete treatment.
Impact
With the support, Aliya saw a mark improvement and is recovering with each passing day.