Joy Story assists skill training of a girl badly hit by fate, who wished to be self-sufficient and be a bread earner for her family
Name

:Preeti

Location

:Khera Dabar Village, South West Delhi

Help Amount

:Sponsoring her course fee of INR 30,000/- at VIVO Healthcare Institute, a NSDC, GOI and Skill India approved centre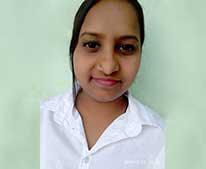 Livelihood Challenge
Preeti lives with three siblings and her grandmother, lost both her parents early in life. She was married at the age of 19yrs and was divorced when she was just 22 yrs. Grandmother is a housemaid and takes care of the kids.
How Joy Story extended help
Preeti wanted to support her family and take the burden away from her grandmother's shoulder. She wanted to pursue a six months Emergency Medical Technician course but didn't have the financial capacity to do it. Joy Story Foundation came across her sad story and decided to make her financially able by sponsoring her course fee of INR 30,000/- at VIVO Healthcare Institute, a NSDC, GOI and Skill India approved centre.
Impact
In six months Preeti will gain employment worth INR 10,000/-14,000/- and will support her family and assist her siblings in their education. She will live a respectable life and will be self-reliant.